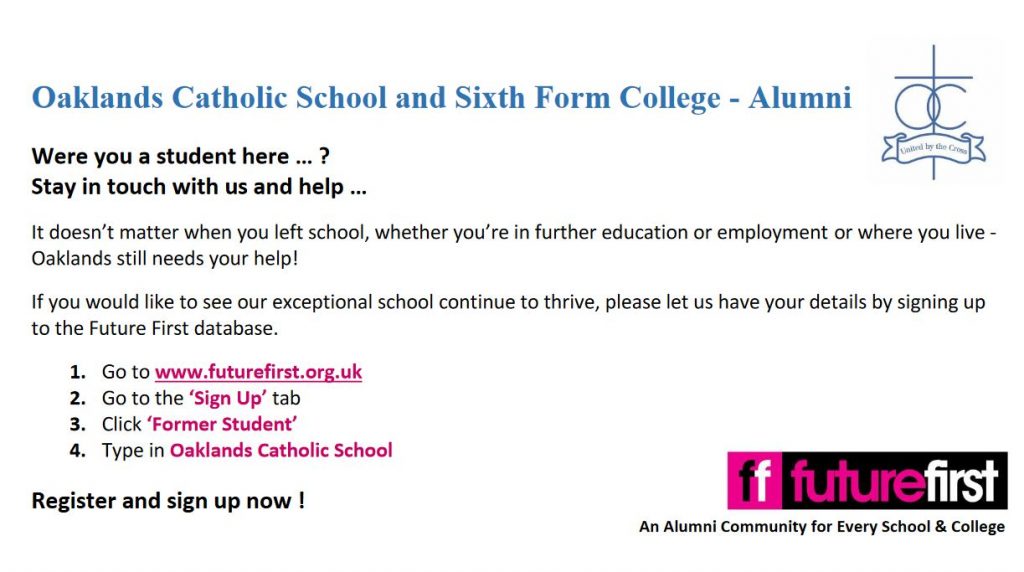 We need former students and staff to be involved in supporting current students.
Sign up to the Future First database. 
Matthew Quinn, Headteacher said "We signed up to Future First's scheme straightaway. A network of past pupils with all their valuable experience will be vital in helping us to broaden current pupils job horizons and equip them for the world of work."
Tim Finch, who manages the Future First programme at the school, is waiting to hear from former students and staff. Email t.finch@oaklandscatholicschool.org or just sign up!
What's involved?
There are a number of ways you can help:
Career and Educational Role Models: Those of you in jobs or higher education can inspire current students by telling them about the different opportunities open to them, while helping build their confidence. We work with Future First on assemblies and workshops, and want to build a network of people who can help.
Mentors/E-mentors: Individual and small-group mentoring allows students to learn from people who have experience of careers they are interested in. Mentors/e-mentors can provide an insight into both higher education and specific jobs, and help to guide students through decision-making and motivational issues. By signing up to the database we can match you to current students. Future First have recently launched a secure e-mentoring platform in collaboration with the Brightside Trust, which allows you to help, even if you're no longer local.
Work Experience: Locating high quality work experience placements is often a challenge for us. By signing up to the database, we can build a list of people who may be willing to provide work experience, work shadowing or internship opportunities to current students.
Development Projects: We continually strive to improve our school environment and innovative, inspirational projects can only be achieved with the support of current and former parents, former staff and students and friends of the Oaklands community.
Oaklands are proud to have educated:
Helen Bowness – Journalist for Stylist magazine
Caroline Dineage – MP for Gosport since 2010). In April 2014 she was appointed as Parliamentary Private Secretary (PPS) to the Financial Secretary to the Treasury and Minister for Women, Nicky Morgan MP in her first Government appointment.
David Harrington – 2002-2009. Musical Director having worked with London Symphony Orchestra and Welsh National Opera
Penny Morduant – Previously a communications Director before becoming MP for Portsmouth North since 2010
Adam Pearce – 1995-2000. Went on to study at the Guildford school of Acting and has worked in a variety of West End shows including Joseph, Evita, Love Never Dies, Sweeney Todd and The Light Princess at the National Theatre and Les Miserables at the Queen's Theatre, Shaftesbury Avenue
James Ward-Prowse – 2006-2011. Now a professional footballer, bossing the midfield for Premier League team Southampton.
Nicola and Rosie Dempsey – 2003-2010.  Known as Flo and Joan, the multi-award winning musical comedy duo, who have headlined and played to sold-out audiences across North America and the UK.