Department: Film and Media Studies
Head of Department: Mrs J Evans
If you wish to learn more about the curriculum, please contact the head of Department by email: ­­­­j.evans@oaklandscatholicschool.org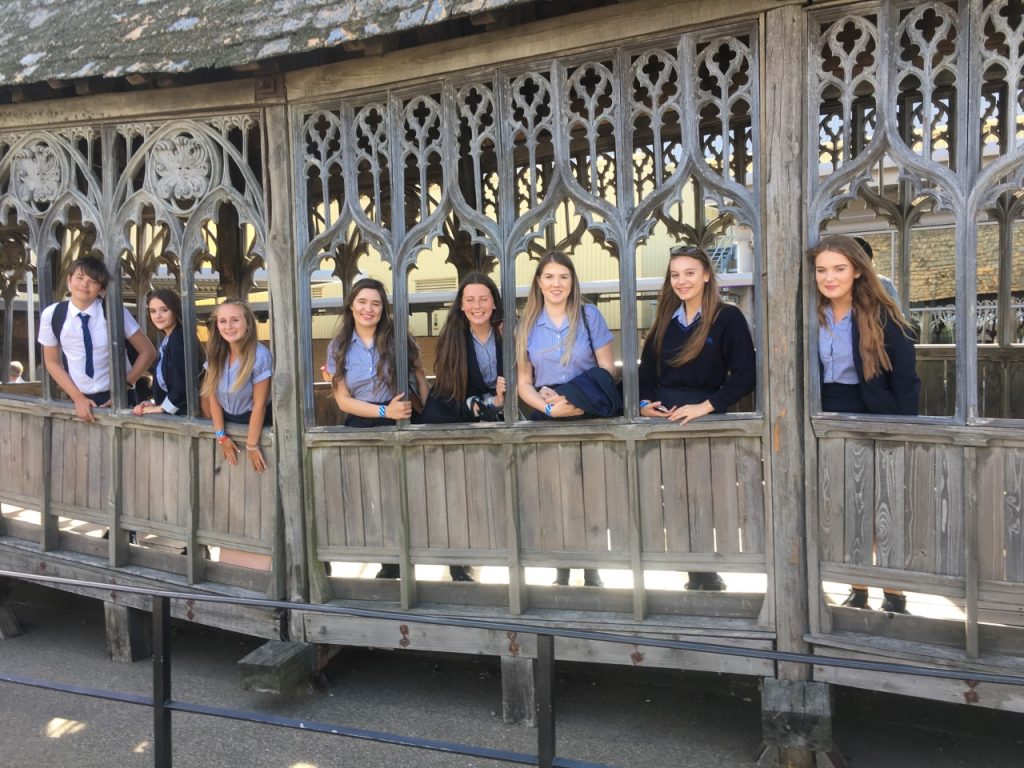 Media is all around us. We use it, we enjoy it, we take it for granted. But how often do we stop to think about how it was created and what the agenda was in the construction of it?
We aim to equip out Media and Film Studies students with the necessary skills to decipher different forms of media and analyse the part they play in society. The course is both analytical, theoretical and creative, teaching students the importance of understanding media industry and influence in a modern world, as well as giving them the opportunity to experience how to create their own pieces of film and media.
We work collaboratively with Business Studies on one project to demonstrate the cohesion between the two areas of study and consequent career choices.
GCSE Y10-11 CURRENT SPECIFICATION
Exam Board: Eduqas GCSE/ A Level
Exam board specification weblink:
Year 10 Topics
Year 11 Topics

Assignment 1- Introduction to Media
Magazine and DVD cover analysis and production work
Assignment 3- Media Production- movie trailer planning, production and evaluation work
Year 10 Examination- in the format of Year 11 task

Assignment 2- Cross-media study- Music video research and production
Preparation for externally set exam brief- topic changes yearly- in 2017 it will be Game Shows
GCSE Y10 SPECIFICATION
Exam Board: Eduqas GCSE/ A Level
Exam board specification weblink: http://www.aqa.org.uk/subjects/media-studies/gcse/media-studies-4810
Year 10 Topics
Year 11 Topics

Media language
Media audiences
Creating a media product- non examined assessment

Media representations
Media industries
Preparation for examinations- papers 1 and 2
Facilities and Resources
There are a number of laptops and cameras for students to use, as well as video editing software.For more insight into some of the topics studied, please view the Media Studies blogsites:
http://gcsemediaatoaklands.blogspot.co.uk/ – current year 11 site
http://year10mediastudies.blogspot.co.uk/ – current year 10 site
http://asmediaatoaklands.blogspot.co.uk/ – A Level site

Film Studies
Key Stage 5
A level Y12-13 CURRENT
Exam board: WJEC
Weblink: http://www.wjec.co.uk/qualifications/film-studies/film-studies-gcse-as-a/
Year 12 Topics
Year 13 Topics

American Film
British Film and Comedy
Producers and Audiences
Storyboarding
Micro and macro elements of film

Single film critical study- Vertigo
Popular film and emotional response- Slumdog Millionaire
World Cinema- power, poverty and conflict- City of God, La Haine
Presentation with script and catalogue
Screenwriting
A level Y12-13
Exam Board: WJEC
Exam Board specification weblink:  http://www.eduqas.co.uk/qualifications/film-studies/as-a-level/
Year 12 Topics
Year 13 Topics

Classical Hollywood
Hollywood since the 1960s
Contemporary American Indie Film
British Film
Storyboarding

Film movements
Documentary
Global cinema
Short Film
Screenwriting
At Key Stage 5 students are taught about the fascinating and rapidly changing film industry. They will consider the social and political context of some influential films and discover the art of directing through study of works ranging from Hitchcock, to Richard Linklater. Students will analyse micro and macro elements of films by a range of directors and will respond creatively in their coursework.
Students will explore both classic Hollywood and current Independent cinema. They will consider the role of cinema in a modern society. The course is divided into 50% coursework and 50% examination for both AS and A2.
At AS level, students complete a creative piece of coursework in response to a specific film micro element and area, such as the opening. They will also look at some modern debate surrounding producers and audiences, in the form of a case study. This will form the first section of the examination. Finally, students will explore the British Film Industry, including films that have influenced society and altered the direction of film making by directors such as Danny Boyle and Ken Loach. This forms the second section of the examination
At A2, students engage in a single film study, which has typically included exploration of the works of Alfred Hitchcock and in particular, the film 'Vertigo'. For the second section of the examination, students will consider how the powerful medium of the film evokes an emotional response from a mass audience. They will base their ideas on both film theory and social analysis. Students will also complete a piece of coursework which includes research into a specific area of film and carrying out creative screen writing.
For more information, please see the AS and A2 Film Studies blog sites:
http://filmatoaklandsas.blogspot.co.uk/ – AS Film blog site
http://filmatoaklandsa2.blogspot.co.uk/ – A2 blog site